Why British American Tobacco in Vietnam?
BAT ON GLOBAL SCALE
We are British American Tobacco, a truly global company with a highly successful past and an exciting future ahead of us. 
We are – a truly international company, often among the top five companies on the London Stock Exchange and market leaders in more than 55 countries. We strengthened our global presence even further in 2017 when we acquired Reynolds American Inc., making us one of the main players in the U.S. market too.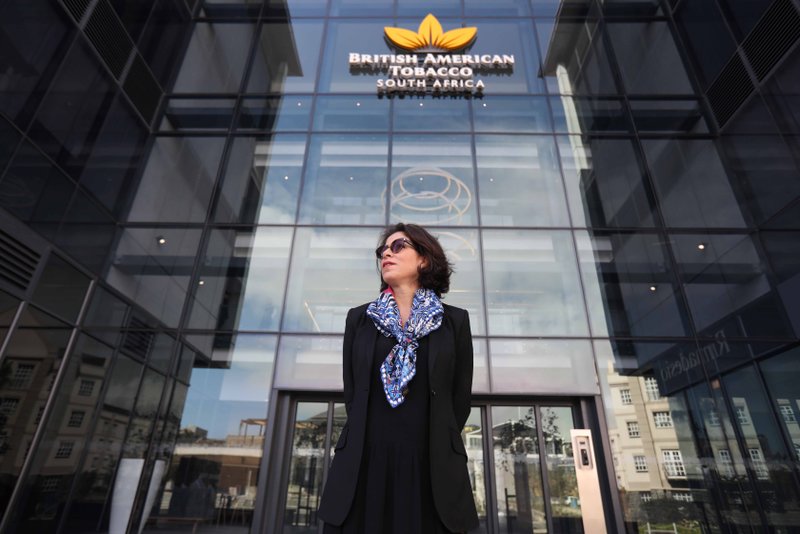 We've been around a long time – since 1902 in fact – and have evolved into one of the world's leading consumer goods companies, proud of our history and excited about the opportunity to write a new chapter in our success story.
There are 55,000 BAT people worldwide. Many of us are based in offices and factories, but lots of us also spend our time out on the road, helping and advising tobacco farmers, and the retailers who sell our products; both valued partners who have always played a major part in our success.
BAT IN VIETNAM
BAT started its operations in Vietnam in October 1994, and has been one o the leading international FMCG multinational companies in the past 24 years in Vietnam. 
In 2001 BAT established a partnership with Vinataba, through a joint venture company named British American Tobacco-Vinataba, with the main business function of growing and processing tobacco.
In 2004, the British American Tobacco-Vinataba officially operated a plant in Dong Nai Province to supply cut rag to Vinataba and other factories. This is acknowledged as one of BAT's most modern processing factories in the world.
In 2014, BAT formed a second partnership with Vinataba by establishing the VINA-BAT JV Co. to produce cigarette sticks.
To become the tobacco industry's leader, we have to continue proving ourselves as a responsible tobacco company with talented employees, powerful brands, highly complies with the local law and contributes to the community where we are operating. 
We have set our 5 key strategic pillars which are believed will help us achieve the above targets.
CULTURE AND DIVERSITY
Our industry is fiercely competitive. We lead it because of our people. Different people from different cultures, with a wide range of strengths. This diversity makes us who we are. What we have in common is a desire to be the best at what we do. And the resources we need to do it.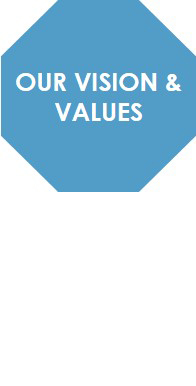 OUR VISION AND VALUES
Our vision and values run through our global business. They bind us together. Making us collectively stronger. Guiding how we do things. And driving us forward.
We bring an enterprising spirit to all that we do. We give our people freedom through responsibility. Freedom to explore. Freedom to choose. Freedom to grow. And as a business, we're open minded. Open to new challenges. New influences. New ideas. Most of all, our diversity brings us strength. Diverse thinking. Leading to alternative approaches. And different solutions. Through diversity, we cover more ground. Which ultimately enables us to deliver high-quality sustainable results.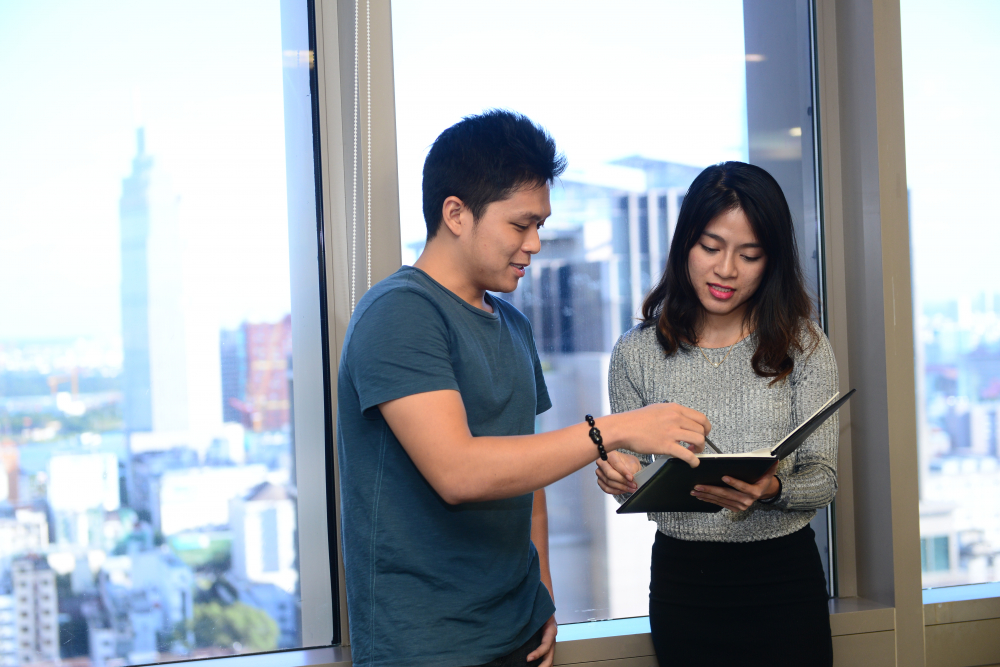 LIFE AT BAT
An investment in our people is an investment in all of our futures. Our established brands and potentially reduced-risk product categories open up a world of choice for consumers. In making the most of our people, we're also making the most of our business.
For us, leading change to shape the future is part of our agile and resilient approach. We've taken our global, consumer-oriented business and driven ourselves to innovate. With results at our core, we're truly creating inspiring products.
We're here to support you in exploring the possibilities for a brighter future. We thrive on challenge and we're a partnership. A team. Let's make the most of one another.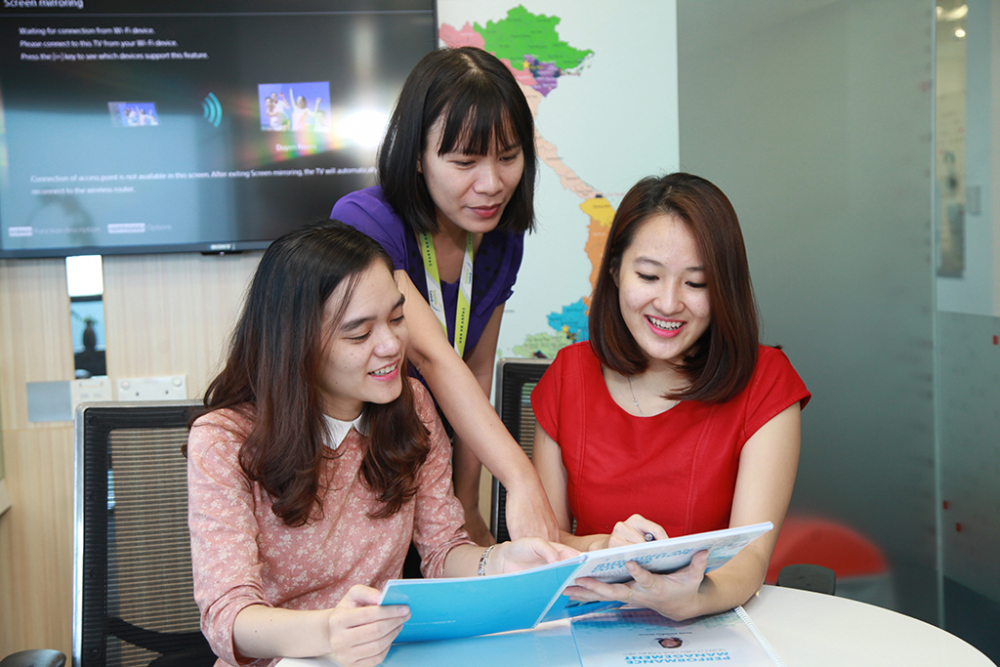 LIMITLESS OPPORTUNITY
What will you get out of your career with one of the world's most international organisations? Our size and scope mean we have opportunities to suit almost any skill set at BAT. From fresh graduate to senior manager. Sales representative to scientist. Accountant to agronomist. Developer to digital marketer. And we're continuing to grow and evolve. Our full acquisition of Reynolds American Inc. in 2017 made us a truly global tobacco and nicotine products company. So, you're almost certain to find a uniquely rewarding opportunity with us.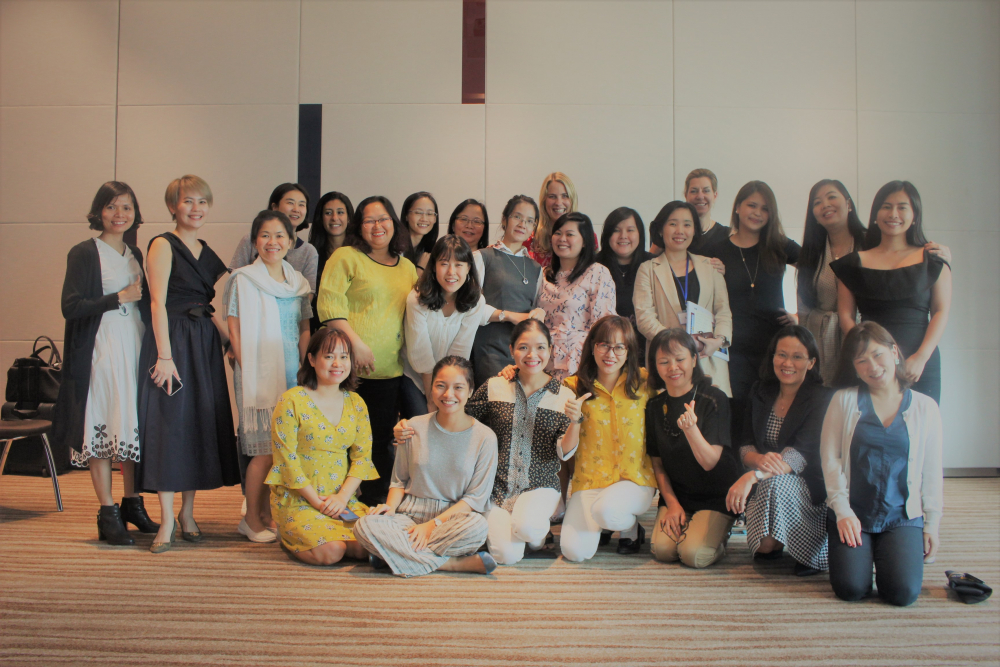 WOMEN IN LEADERSHIP TRAINING FOR FEMALE EMPLOYEES IN SENIOR LEVEL 
BAT Vietnam offers you the global development like no other.
You will have access to a global pool of knowledge in all business functions from Marketing, Finance, Operations, Legal & External Affairs to Human Resources. The opportunities to work with global-minded colleagues and receive coaching from talented leaders from many parts of the world are what contribute to your global development.
You will soon find out that BAT Vietnam opens the door for you to an international career.
We have Vietnamese talents working in different markets across the globe, where they play key roles in driving the success of the business there. The international assignments come on opportunity basis, which means only those who have successfully proved their performance and leadership capabilities are entitled to these premium tickets. Your job is to keep up your performance and enhance your capabilities as always, so when the opportunities come, you are in the front line to take the tickets.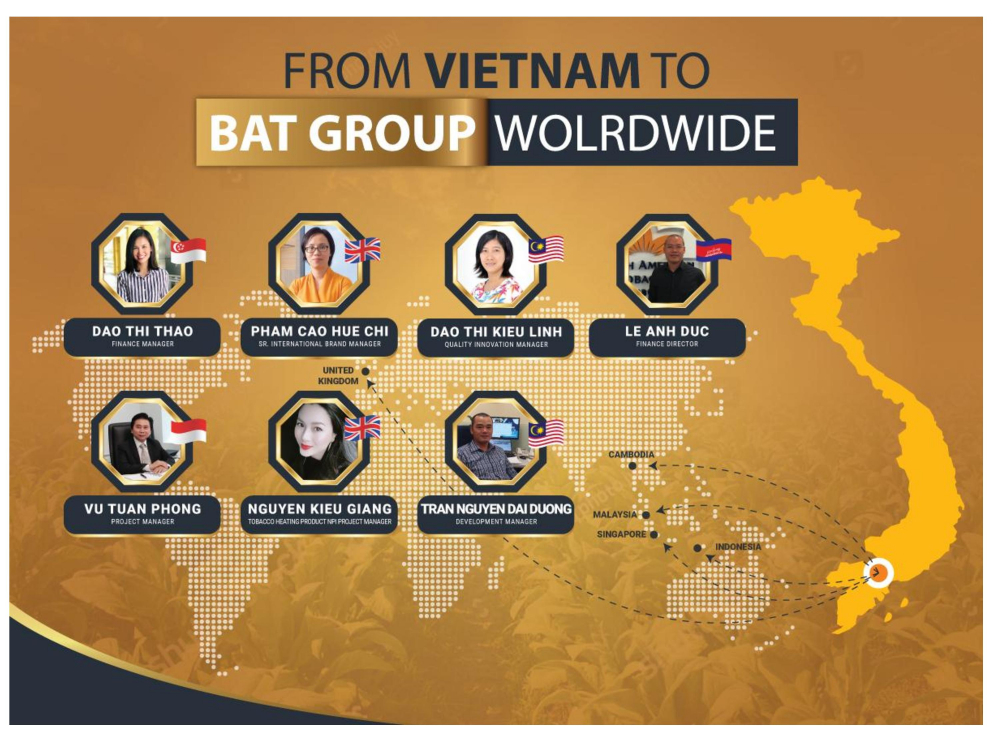 You might have heard of career ladder at work, but here at BAT Vietnam, we believe in the so-called career lattice. From our perspective, employees who have cross-functional exposure and critical experience are those who would likely to succeed the most. Rotating your job helps you expand your functional knowledge and gain further critical experience, building a firm foundation for future BAT business leaders.
Training is a channel where we aim at developing both functional knowledge & capabilities for our talents, and leadership training lies in the heart of the whole training agenda. With out 8 leadership capabilities, we believe employees who possess these capabilities will be able to drive the business to its next level. That is why we focus on equipping our high potential talents with leadership capabilities based on training components as well as leadership experience and practice from our senior levels. Shaping our future leaders with our current leaders.  

                                                                                                             IMPACT & GRAVITAS
DEVELOP PRESENTATION SKILLS FOR SENIOR LEVEL IN CONVERSATIONAL
& PRESENTATION CONTEXT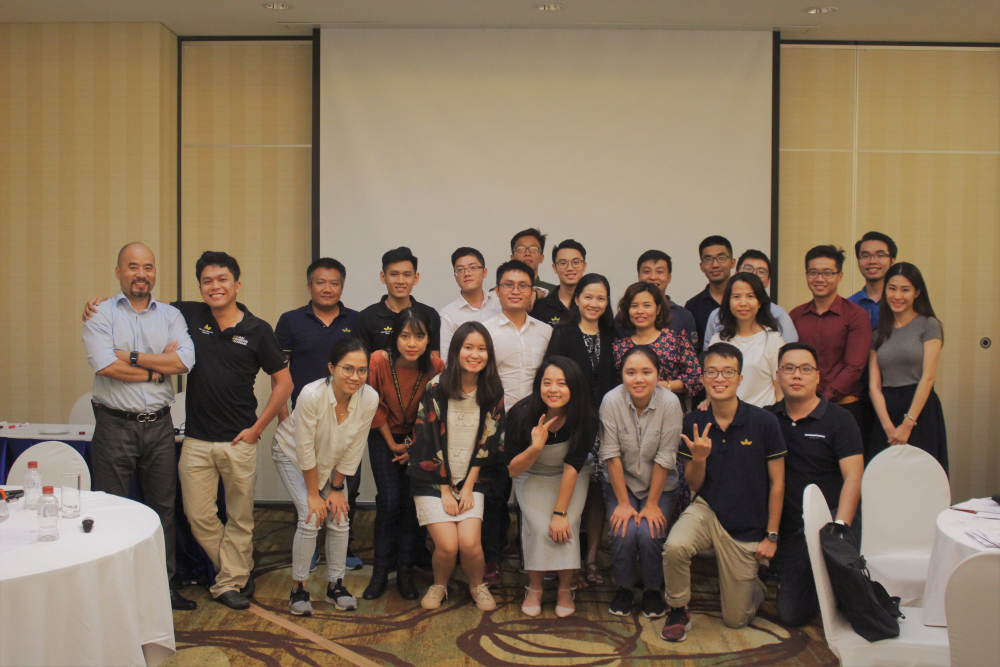 `                                                                                                            
LEADING SELF
DEVELOP FUNDAMENTAL SKILLS & STRENGTHEN LEADERSHIP CAPABILITIES
                                                                               FOR 
JUNIOR MANAGEMENT & GLOBAL GRADUATE
For fresh graduates, the 12-month Global Graduate Programme awaits. With the proposition "What you are made of?", we truly embrace the unique characteristics of each young talent as we believe each person is special in their own way, and together we can turn these differences into advantages for both sides – the company and the talent. Real job from Day-1 till the BAT Academy upon graduation, it will be a tough marathon for young talents who wish to join our Global Graduate Programme. If questions and wonders are popping up in your mind, find out the answers by applying for our Global  Graduate Programme now! Surely you will have us alongside you till the end of your discovery. 
Acting with responsibility and integrity wherever we operate underpins our whole approach and forms the foundation of our culture and values as a company. Our CSR agenda is in line with Global guidelines and localized on the needs of different Vietnamese communities and based on the three pillars:
Sustainable Agriculture and Environment: 
We are committed to working to enable prosperous livelihoods for all farmers. Accounting for 70% of our annual Corporate Social Investments, our consistent afforestation programs have provided sustainable agricultural techniques training for farmers, regardless of their products as well as developing rural infrastructure for more than 15 years.    
Empowerment:
We are committed to improving community living quality in impoverished area via micro-finance and civil life projects. In our cooperation with Vietnam Women's Union, BAT has joined hand in running the programme "Empowering Women" from May 2018. Our vision is to create a better future for Vietnamese women, especially those living in disadvantageous conditions. We have been sending fishing rods to women from which they can utilize to improve their financial status and manage a work-life balance, thus strengthening their role in the society. 
Employee Engagement:
We are committed to inspiring and engaging employees in giving back to the society. Making contributions to the business is not enough as we still want our employees to be responsible citizens. That is why we organize several meaningful community activities every year to build a sense of giving back among employees. These are occasions when employees join hand in improving quality of life in the community by building bridges or repairing community houses.

Our reward strategy is to provide a market competitive package, support employees' career development and create a friendly and empowered working environment for employees to make an impact in BAT Vietnam. 

What sets us apart from other organisations?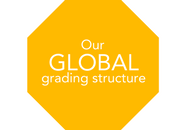 A clearly defined grading structure across the entire organization enables our employees to speak the same language in understanding the job size and responsibility in each of the markets they are working in. In other words, job grade of an individual in Vietnam will bear the similar scope of work and responsibility in the organization compared with someone working in Cambodia, India, or the US. This encourages talent mobility of employees within the Group.
We maintain our competitiveness to the market by benchmarking our salary ranges annually to the market. This ensures that we are relevant to the market and able to attract and retain talents in our company. The latest practice of salary benchmarking took place in the middle of 2018, from which we can proudly say we are now among top 25 best pay companies across Vietnam.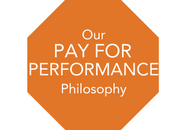 We are known for our Pay for Performance philosophy, where we offer them market competitive market in both compensation & career prospects. We value our talents and provide an environment for our employees to develop their career. We encourage employees to bring their passion and energy and to relish every challenge for a rewarding career in BAT.

MERIT CERTIFICATE FROM MINISTRY OF INDUSTRY AND TRADE FOR
EXCELLENCE CONTRIBUTION TO VIETNAM INDUSTRY AND TRADE
JUNE 2014
MERIT CERTIFICATE FROM PRIME MINISTER FOR EXCELLENT
CONTRIBUTION TO VIETNAM DEVELOPMENT FROM 2011-2015
JULY 2016
Why our GGP:
A truly fast-track programme designed to build talented fresh graduates into future business leaders of BAT. 
What GGP looks like:

It is a marathon that lasts 12 months, where you are stretched to the limits and surpass different better versions of yourself. Starting with Day-1 KPI, you then swim in the sea of knowledge which demands on a high level of agility. Things are about to get tougher when tasks show up as a burden on your shoulder, added by a pile of deadlines constantly chasing you from behind. You will be then involved or take lead of several projects, in which reaching the end goals is as same difficulty to reaching the top of a mountain. All these learnings and tasks will eventually become your wings which will fly you to the precious end of the programme – BAT Academy.
Do you have what it takes to be one of us?

With the proposition "What you are made of?", we truly embrace the unique characteristics of each young talent as we believe each person is special in their own way, and together we can turn these differences into advantages for both sides – the company and the talent. If questions and wonders are popping up in your mind, find out the answers by applying for our Global  Graduate Programme now! Surely you will have us alongside you till the end of your discovery. 
How GGP is built:

We understand that reaching the finish line in this so-called marathon is not a piece of cake, and that is why we have prepared some valuable aids for your long journey.
Onboarding: 
The programme starts with an intensive 3-week Onboarding, which takes you through the world of BAT, including our history, vision and values, and the underlying strategy called the BAT way. 
World-class learning:
We offer you training opportunities at all levels, ranging from foundation to management. You will be trained on how to lead yourself as an individual and how you will play the key role in a project team. The functional and business awareness trainings are also a part of the agenda, helping develop you into management level at BAT. The opportunities do not just end there - you have access to more than three thousand online courses in our system to learn from. Your learning opportunities are abundant, and you need to make the best use of it.
Coaching:
From the first day you are here, you are assigned a coach who are the key people to help you develop both your functional knowledge and leadership capabilities. In other words, they are a "senior-level buddy" throughout your 12-month programme who are committed to developing you into the best version you could be and the business would need. 
Mentoring:
Apart from your coach, there will also be a Mentor partnering with you in your whole journey. They are Head of Functions who will give you guidance and advice on your professional and personal growth at BAT. Their leadership experience and practice are also the key to strengthening your leadership capabilities during the time. 
International Projects:
While you are still just a few months into the programme, you will have the chance to step up for an even bigger challenge - working with colleagues from across BAT on an international project to add value to our business. Involving in such projects gives you the chance to make a real impact on our success. It is also an amazing opportunity to demonstrate your leadership potential, grow your international network and raise your profile within the business.
BAT Academy:
Upon your graduation, you will be joining over a hundred fellow Global Graduates from all over the world, and get a chance to meet  our CEO, Management Board Leaders and the rest of #NextGenBAT leaders in this 2-week session. The BAT Academy exposes the graduates to a global view of how the business works & provide real-life business challenges to stimulate their thinking and  stretch their abilities.
Inside review about British American Tobacco in Vietnam
Resourcing Manager

-

1429580285

Pros: Dare to challenge the status quo, willing to invest on people, dynamic culture, competitive rewards, friendly environment, respect its people

Resourcing Executive

-

1428315789

Pros: Transparent career path, Friendly working environment, Very competitive rewards & benefits, etc.